Angela Rehhorn's team mates from the Canadian Conservation Corps made a special presentation to the Couchiching Conservancy on Saturday June 1st.  
The 19 youth from Angela's CCC group arrived from all over Canada for the memorial service held in her honour at Hawk Ridge.  Before the memorial, we had the great privilege of meeting them at Grant's Woods, and they arrived with a special gift:   A Bat Box in Angela's memory.
The box is inscribed with messages from her team mates, and a poem that Angela wrote: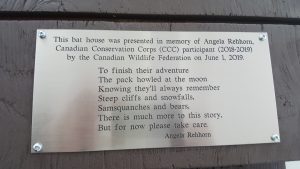 The bat box will be installed at Grant's Woods.
The CCC team also visited the Memorial Sanctuary established at Grant's Woods by Angela's family and friends: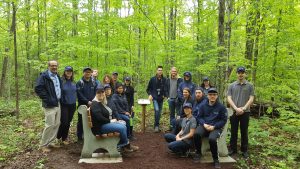 Community Rallies to Honour Lost Environmentalist: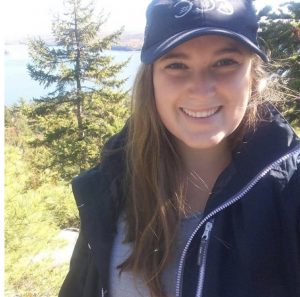 More than $11,000 has been raised by a grieving community to honour this environmental champion who was tragically killed in the crash of an Ethiopian jetliner in March.
Angela Rehhorn, 24, was helping The Couchiching Conservancy develop a bat-monitoring project as part of its Citizen Science Program when she died in the crash en route to an international environmental summit.
Volunteering for the Couchiching Conservancy as part of a Canadian Conservation Corps initiative, Rehhorn was among an elite group of youths selected to attend a United Nations conference on the environment when the flight she was on went down, killing all 157 passengers and crew. In the wake of the crash, Boeing 737 Max 8s were grounded around the globe.
Rehhorn and her Canada Service corps colleagues Danielle Moore, Micah Messent and Stephanie Lacroix were among 18 Canadians who died in the disaster.
"I want to be a person who is continually growing, learning, experiencing and helping wherever I can be of help," Rehhorn wrote in an blog tracking her adventures after deciding to join the Corps. "As someone who is passionate about the environment, wildlife and education I need to feel like I have an impact on my community."
The graduate of Patrick Fogarty Secondary School was a competitive soccer player and an avid member of the Orillia Channel Cats swimming club, but it was her love of nature that guided her career choices.
As part of her Conservation Corps work, Rehhorn was helping The Couchiching Conservancy develop and launch a program that will track the progress of central Ontario bats, which are currently being decimated by a disease called White Nose Syndrome.  The project is part of our citizen science initiative to do important wildlife monitoring on conservancy properties.
"As awesome as her journey was, it was only just beginning," said Joan Vincent, Angela's mother.
"When Angela and another local environmentalist, Grant Mask, approached us as part of their Conservation Corps duties to help with citizen science, we felt like we had won the lottery," said Couchiching Conservancy executive director Mark Bisset.
But with the encouragement of the Rehhorn family, the local community has ensured that the work Rehhorn started will be completed.  To date, the conservancy has received $11,000 in the outpouring of support in honour of the young environmental leader, benefiting its entire citizen science program.
As a result, the conservancy has created the Angela Rehhorn Citizen Science Fund in her memory. Donations can be made by going to http://www.couchichingconserv.ca/angela/.
"We truly are blessed by the generosity and support of this community and from afar," said Vincent. " It is heartwarming that Angela's project can move forward and that other projects can also be facilitated. We are also grateful to The Couchiching Conservancy for the Quiet Grove at Grant's Woods in Memory of Angela."
The Rehhorn family is also encouraging donations to the Canadian Conservation Corps, a branch of the Canadian Wildlife Federation, by going to http://cwf-fcf.org/en/foundation/ways-to-give.html.
On Saturday, June 1, A Celebration of Life will be held at Hawk Ridge Golf and Country Club in Orillia from 1-4 pm to remember Rehhorn. All are welcome.
---
To donate to Angela Rehhorn Citizen Science Fund in her memory:
Donate online through Canada Helps (all donations through this page are directed to the Fund)
Give us a call and we can take your information and credit card over the phone: 705-326-1620
Download a Donation Form and mail to our office (Box 704, Orillia, ON L3V 6K7)
The family will be notified of your gift.
If you have any questions about donating, please give us a call at the office and ask for Tanya Clark or Courtney Baker.