Janet Machan has been a long-time supporter of local conservation work, with her work on the Passport to Nature committee and monthly support. Janet has been the key person behind getting the Passport to Nature registration set up each year, and we can't thank her enough for the help! She has coordinated and planned the adapted Passport to Nature kids activities for this year. Her experience and energy helps so much. Janet is our next Supporter Spotlight. Thanks for all you do Janet!
---
Explain your connection to this area:
My husband, two children and I moved here in 2005 to join Rowanwood Conserver Society Co-operative. I was lucky enough to receive a teaching transfer to the area at the same time.
Where are you originally from?
I was born in Northern Ontario, but my early years were a series of moves with my father's work.  I grew up for the most part in Guelph, Ontario having moved there at the age of 10 and stayed until I graduated high school. While I no longer have family there, I continue to connect with high school friends.
What do you love about this area?
I love the farms and forests of our area, as well as the lakes in the region. While I enjoy many of the cultural and art activities in cities, I'm always so happy to return and spend time in our rural quiet.
What made you passionate about protecting the environment?
I have always been interested in the outdoor environment.  As a child, I spent summers at a family cabin outside of North Bay and it was there that I started collecting and observing nature. In high school, I was part of the Outdoor club and biology was a favourite subject. During my early twenties, I started listening to David Suzuki's teachings, including his warnings about protecting the environment.
If you could be any animal, who would you be? I love all birds and my favourite at the moment is the owls.
How did you first get involved with The Couchiching Conservancy:
Gord and Jane Ball invited us to participate at an event.
What is your favourite Nature Reserve to visit?
I can no longer do big hikes, so I love exploring the shorter and well-maintained trails of Grant's Woods.
Tell us about a favourite Conservancy memory (at a Nature Reserve, event, volunteering, species sighting etc)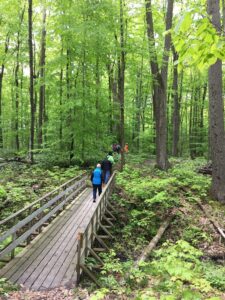 I have several! We enjoyed our evening at the pie auction fundraiser a few years ago! Our daughter was invited by Liz McClelland to perform music and it POURED rain, but it was on with the show in true Conservancy style. We had a lot of laughs that night. My husband and I really enjoyed the evening at the Carden Rec Center when Phil Careless presented. Last year, I finally heard the whippoorwills on my citizen science monitoring night. Moments like that are pretty special.
In what ways are your supporting local conservation work?
My husband, Gary and I have been members for about ten years and have remained monthly donors throughout that time.
If you are volunteering, what job(s) are you doing? What do you like about it?
When I retired three years ago, I joined the Passport to Nature committee.  I have worked in education my whole life and I love that people can learn and enjoy the reserves in small groups from an expert. P2N is such a great idea for gathering new interest in the conservancy because people are gently introduced to what we do.  I also participate in the Citizen Science program as a whippoorwill monitor. My daughter, Sarah and I have done it for three years now and we have such a fun time out listening for them. I believe strongly that research and data are critical tools for advocacy and policy change.
What is your favourite goal or mission that the Conservancy is working towards?
I think the long-term protection of land through acquisition is so important. Ultimately, I believe people do not own the land, so much as we only borrow it for the time that we are here. There is a poem that talks about being haunted by the voices of the generations to come. What will they inherit? If we can ensure that there are large corridors of natural space, then there is hope for the future of the plants and animals with which we are interconnected.