Acres: 85
Status: Open to the Public, with trails
Protected: October 18, 2011
Donors: Joan Berndt and Susan Campbell
Landscape: Matchedash Wildlands
Sisters Joan Berndt and Susan Campbell donated this property in memory of their grandfather and it was a partial purchase/partial donation to the Conservancy. The Township of Severn and TD Friends of the Environment also contributed financially to make this Nature Reserve a reality.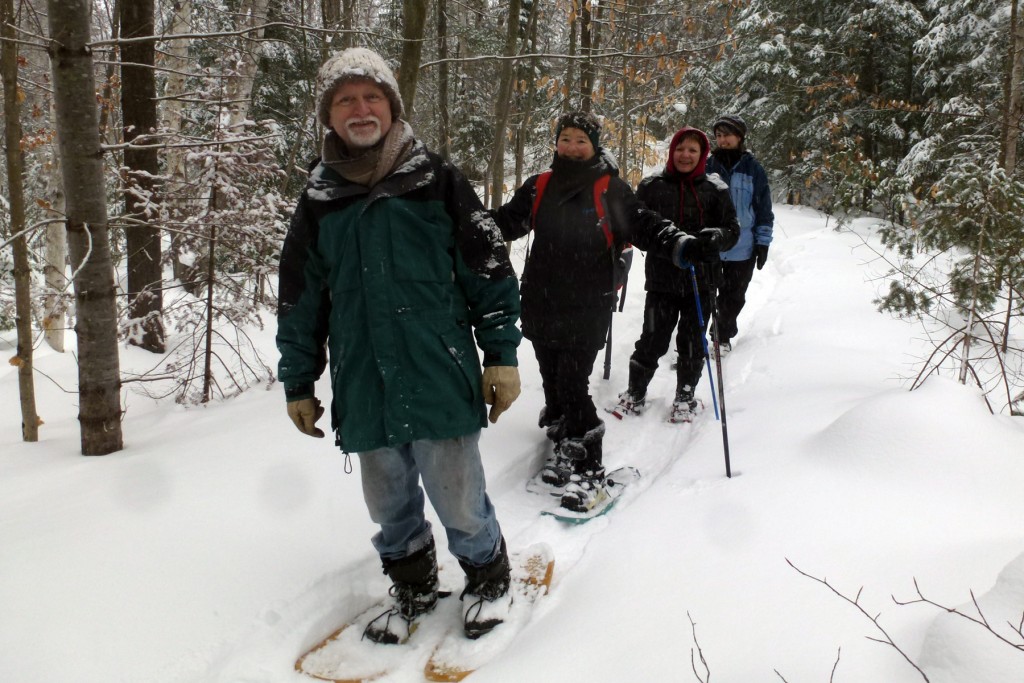 Snowshoeing at the Nature Reserve
Landscape and Species:
Borders the Trent-Severn Waterway
Mixed upland forest
More than 228 native plants
Rare insect-eating pitcher & sundew plants, and pink moccasin orchids
Excellent habitat for wood warblers and vireos, as well as American Bittern
Rich in reptiles and amphibians
The Pipsissewa Loop Trail is open to the public (named after the Pipsissewa wildflower that grows along the trail).
Visit this Nature Reserve:
A geo-tagged Trail Map is Available for download above. Note that through the winter of 2022, the Cambrian Road entrance (P1 on our map) via the Simcoe County Forest Turnbull Tract is closed to the public due to logging.
Access T.C. Agnew by parking at P2 on Fawcett Road beside Hwy 11, and walking up the remainder of Fawcett road and the Trent Severn laneway to the T.C. Agnew Nature Reserve entrance. There is a CN Rail "No Trespassing" sign on a gate as you enter the laneway. This is in reference to the CN rail property further up the laneway. The Trent Severn laneway is owned by Parks Canada.
The Pipsissewa Loop Trail, combined with the 1 km walk in to the reserve beside the Trent-Severn Waterway, make this a rewarding outing in any season.
The birding is excellent in all seasons, and the trails can be snowshoed in winter.
---
---
History:
Thomas Agnew was an early settler and businessman in the Washago area. His good friend Robert Fawcett owned the adjoning acreage, which has also been donated as a nature reserve - a testament to the character of these two well-known Washago families, and a lasting legacy for both.
On the edge of the Trent-Severn Waterway, the two properties contain the same precious wetland complex, teeming with wildlife.