A winter hike at Elliott Woods, revealed signs of turkey, deer and small animals. The snow has just began to melt on the forest, making for a challenging trudge! Want to see the route? Click here to open Map my Hike. Elliott Woods is a 17 acre property near Craighurst, ON on the Oro Moraine. (March 13)
~~~~~~~~~~~~~~~~~~~~~~~~~~~~~~~~~~~~~~~~~~~
March 12, 2017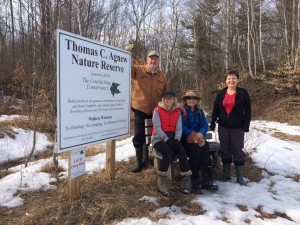 A winter walk at the Agnew Nature Reserve.
~~~~~~~~~~~~~~~~~~~~~~~~~~~~~~~~~~~~~~~~~~~
January, 2016
Just below the beaver dam a spray of water has created a magnificent sculpture. Also seen at Starr Sanctuary were many tracks of otter, deer, grouse and mouse.For Bill and Molly Starr, the protection of this 100-acre reserve is a fitting way to remember their late son Kris, who was only in his twenties when cancer tragically carried him away. Learn more about this property here.
~~~~~~~~~~~~~~~~~~~~~~~~~~~~~~~~~~~~~~~~~~~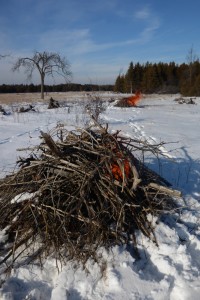 Jan 4, 2016
Weather has finally cooperated to conduct final burn of brush at Bluebird Ranch. Bobolinks have already responded to additional open fields in 2015, Dave is looking forward to summer of 2016!
This 206 acre (83 ha) property is owned by The Couchiching Conservancy, linking directly to Windmill Ranch thus creating a large area of protected land.
The grassland area of the property provides excellent habitat for species at risk birds such as eastern meadowlarks, bobolinks and barn swallows. A portion of the property contains critical habitat for loggerhead shrike. Learn more about this property.
~~~~~~~~~~~~~~~~~~~~~~~~~~~~~~~~~~~~~~~~~~~