FOREVER is a long time
We have set out to preserve the natural features of the Couchiching region for generations to come. Founded in 1993, the Couchiching Conservancy now protects almost 15,000 acres of land, and has established itself as the leading land trust in Ontario. We continue to expand our protected areas each year. This work demands more than short term commitment. Our responsibility to future generations includes ensuring the sustainability of our efforts.
Changes are inevitable over generations: the ups and downs of the economy, changes in government policy and support, challenges of conserving land against development and abuse, the challenge of finding appropriate responses to climate change, the challenge of mobilizing volunteers to monitor and protect properties in all parts of our region. Whatever the difficulties that arise over the years, we need to be prepared to meet them. That's why it's vital to work now to ensure there will always be a secure core which guarantees the Couchiching Conservancy is ready to rise to the challenges, whatever they may be.
To that end all of our Past Presidents have come together to create the Heartwood Fund – a "forever" fund, a protected endowment whose income is dedicated to supporting the core of the organization.
Red Admiral at Wolf Run Alvar. T. Rowland.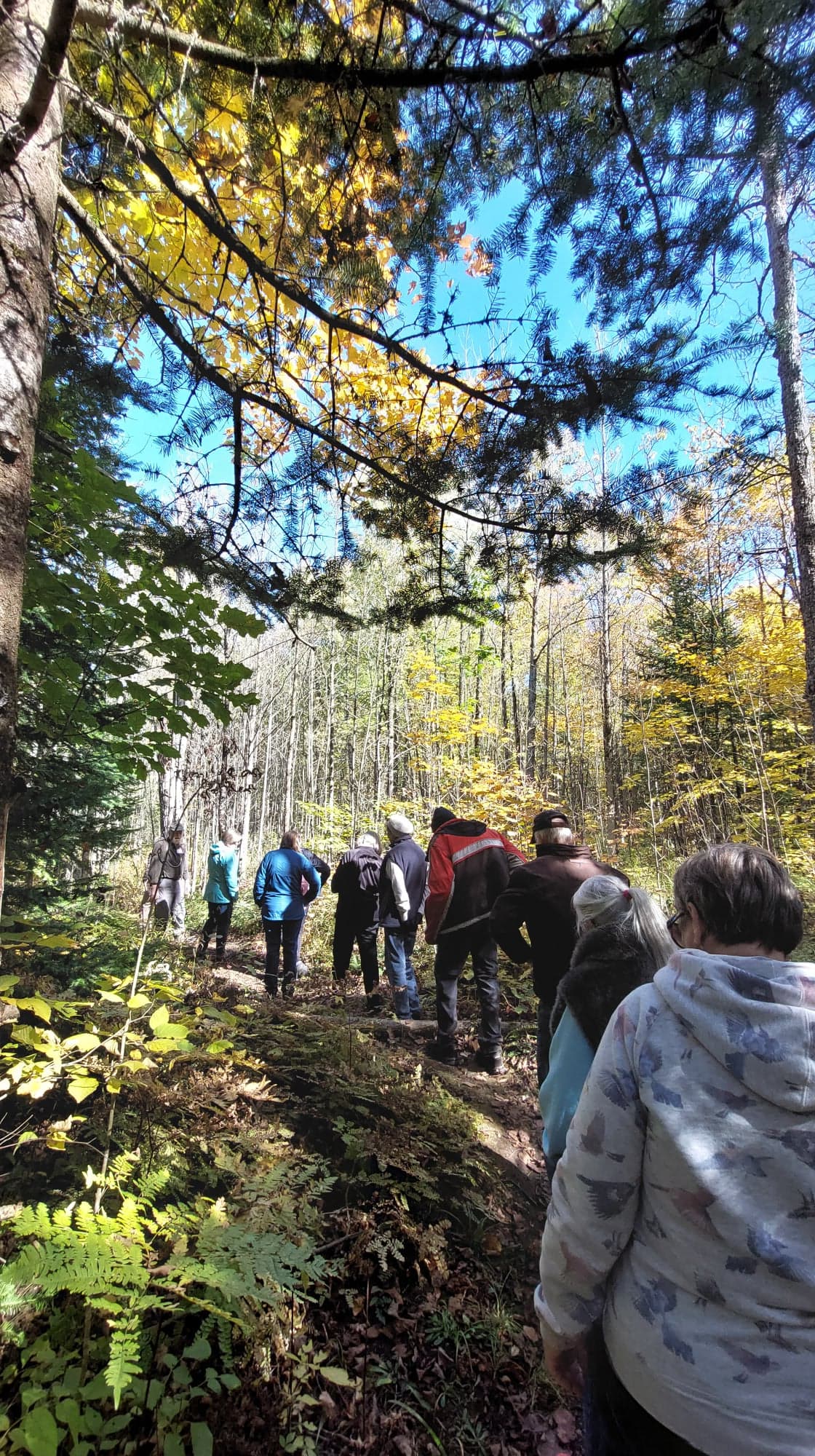 2022 Update
On a beautiful Sunday afternoon, supporters of our Heartwood Fund ventured out to three nature reserves in the Black River Wildlands region.
The Heartwood Fund was developed to ensure the places we protect today will be supported well into the future - no matter what happens in the world. These legacy gifts is the most important gift a person can make.
To date, over 3 million dollars have been pledged or contributed by 75 people. We have a goal of $10 million dollars to support our nature saving activities well into the future.
If you would like to have a confidential conversation, please reach out to Tanya Clark, tanya@couchconservancy.ca or 705-326-1620.
By making a legacy gift to The Couchiching Conservancy's Heartwood Fund, you will make a major impact on our landscape.
"We all have a chance to leave our own Legacy to the Couchiching Conservancy. Of course, I am referring to the Heartwood Fund.
Not having any children myself, it was an easy decision for me to make a pledge to this fund knowing that I was going to be able to make a difference to the future of the Couchiching Conservancy and ultimately, to our fragile planet. So besides leaving funds of course, to my family and friends, I am now able leave a donation to the Conservancy in my Will."
Cathy Massig
---
"Twenty five years have gone by since the Conservancy was formed, and we have seven grandchildren to whom we are leaving a legacy of environmental concerns. We also want them to see that the efforts of a small group of individuals can have a positive impact, a lasting effect and thousands of hectares protected land to which to point.
What better way is there to ensure that the Couchiching Conservancy continues to be able to function long after we are gone by giving to the Heartwood Fund."
Adam and Shirley Thomson
How you can help build a legacy
At the same time as we build the Heartwood Fund, we must make sure donations continue to support the Conservancy's current expenses and land purchases. For that reason we will build this endowment – with a goal of $10,000,000 – primarily through legacy contributions: wills, insurance, other long-term investment vehicles that people can contribute with the future in mind.
To help you decide what your best planned gift is, download our gift matrix. With the right financial tool in place, you have the power to make a difference across the generations.
It can be as simple as adding bequest wording to you will, such as "I leave (____________ dollars or ______ percent of the residue of my estate) to The Couchiching Conservancy for purposes as determined by its Board of Directors."
Estate Planning Webinar
Learn about some financial planning tools that can save you and your family from taxes, make the most of your giving and be strategic to make the biggest impact for nature.
NOTE: Please click the Gear icon and increase the quality for the best viewing!
---
Ready to have a conversation?
Please Contact Us for a confidential discussion.
How to leave a living legacy
Want to learn more about planned giving and leaving a living legacy? Watch our informative video. Special thank you to Peter Dale for producing this video and to Heather Elliott, Lou Probst and Gord Ball for contributing.