The wilderness in the region is special for Katie and Robert. They were engaged at one of the Nature Reserves and will have a small ceremony at a property as well.

Explain your connection to this area:
Orillia is a special place for us because it is the first home we chose. We moved here five years ago and since then have begun to grow our roots. We initially moved here for school, Katie attending Lakehead University and Robert Georgian College. We stayed because we love the community and the surrounding area.
Where are you originally from?
We grew up in Toronto, Ontario.
What do you love about this area?
We love this area because there is so much diversity of habitat in any direction that is so accessible to us. We can explore wetlands, forests, lakes, the Canadian Shield, alvars, all within walking, biking, or a short drive.
What made you passionate about protecting the environment?
Both of our parents took us camping when we were younger which fostered a love of the outdoors. Katie studied Environmental Education at University of Toronto which led to a career teaching Field Studies and outdoor education. She believes that regular immersion in nature is the best way to build an ethic of care and love for nature in people of all ages. We both love spending our summers camping and are currently learning more about portaging and canoeing. We find being in nature is restorative and helps us relax and connect to the living world around us.
If you could be any animal, who would you be?
Robert would choose Black Bear. They're pretty relaxed for the most part, have lots of black fuzzy hair, and love good food. Katie would choose Slate-coloured Junco. They just seem like a nice subtle, gentle bird that likes the cold.
How did you first get involved with The Couchiching Conservancy?
When we moved to Orillia we looked for ways to connect with our community and develop a sense of place. To both of us, that meant exploring in town as well as the outdoors. We found the Couchiching Conservancy, and began by exploring and birding the trails at Grant's Woods and Scout's Valley. We learned more about the Conservancy through the Orillia Naturalists' Club and ventured out to more properties. We signed up for some of the Passport to Nature events which we really enjoyed. They were great introductions to the properties in the surrounding area.
What is your favourite Nature Reserve to visit?
The Alexander Hope Smith! It is a beautiful shady trail over rocks and forest floor. We often hear Yellow-bellied Sapsuckers, Chickadees, Brown Creepers, and the occasional Kingfisher. On the water we've spotted beautiful Trumpeter Swans and a variety of migrating water fowl which are always fun to try and identify. We've seen snakes, turtles, and beavers, and we always look forward to taking a moment to stop and sit about halfway to look out at the water. While we sit it's always nice to check in, chat and reflect. It's a really peaceful walk.
Tell us about a favourite Conservancy memory.
Some of our favourite memories are sharing Conservancy properties with the people we love. Every Spring Katie takes her mom (who lives in Toronto) for a trillium walk in Grant's Woods. Trilliums are few and far between where her mother lives so walking along the Trillium trail in peak bloom is like walking along "the white way of delight" (to quote Anne Shirley).
We also brought Robert's family on a Passport to Nature hike along the East Coulson Swamp last winter which we all loved. Some of our best memories are when we're outside in nature with the people we love. We're so proud of and grateful for these properties and love to share them.
In what ways are your supporting local conservation work?
We try and attend as many events as possible and donate what we can. We also use word of mouth to raise awareness and often bring out our friends and family.
What is your favourite goal or mission that the Conservancy is working towards?
We really have enjoyed the public outreach programs such as the Passport to Nature. We've learned about butterflies, grykes, wildflower photography, and have met some really kind and knowledgeable people at these events. We both appreciate that the Conservancy works so hard to protect the land for people like us, those who will come after, and the non-human living beings with whom we share this world.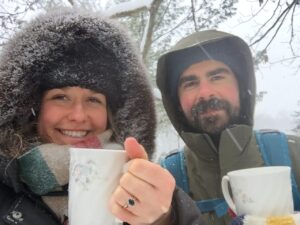 Bonus story:
One snowy January afternoon, we drove out for a hike in Alexander Hope Smith during what turned out to be a blizzard. The forest was completely covered in beautiful fresh snow and it looked like a wintery wonderland. We hiked in and stopped by the frozen water outlook where Robert proposed! He couldn't have picked a more special and magical place. We're looking forward to saying our vows in front of our immediate family under the cathedral of pines, maples, and oaks in Grant's Woods.