Acres: 24
Status: Open to the Public with Trails
Protected: Oct 11, 2006
Donors: Rhonda Cowen in honour of her parents
Landscape: Oro-Medonte
Rhonda Cowen donated this 24 acre property near the village of Waverley to the Conservancy in 2006 in honour of her parents. Because the donation required a severance from Rhonda's adjacent lands as well as a re-zoning, this transaction took an extended amount of time and considerable red tape. It has been registered as an Ecological Gift under a federal program of tax incentives.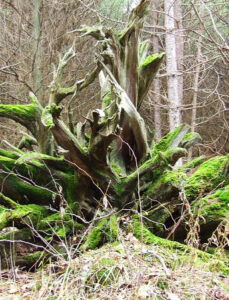 Landscape and Species:
Jennett Woods encompasses one of the headwaters of Hogg Creek, making it important for the protection of downstream water quality
part of the property has native forest, mostly with a mix of Poplar and older White Pines
about two-thirds of the property if Red and White Pine plantation, which will be thinned periodically to gradually convert to native hardwoods
a small band of wetland meanders across the property, feeding into Hogg Creek
old fence lines of massive pine stumps can be found within the plantation areas
this forest shelters birds and other wildlife that prefer conifers, such as finches and an occasional visiting Black-backed Woodpecker
Best time to visit: year-round. Wetland areas may be flooded in Spring
Location
From Waverley (located on Hwy 93 between Hillsdale and Midland), go east on Vasey Road for 0.5 km, watch for Conservancy sign on the right.