In an area east of Orillia and northwest of Lindsay, a flat limestone landscape called the Carden Alvar Plain harbours rare habitats known as alvars. Alvars occur only on limestone bedrock with little or no soil, where spring floods and summer droughts create harsh conditions. Many of the wildflowers, native grasses and invertebrate species found on alvars normally occur in the western provinces, and many are rare. These habitats are imperiled, occurring only in the south of Sweden and scattered around the Great Lakes Basin. Carden Township's alvars are globally significant with a great diversity of alvar species.
A Precious Gem in our Region
In 1996, The Couchiching Conservancy began a project to identify the locations, and extent of these rare habitats. After the Alvars were mapped, and the vegetation communities and plant species were identified, we shared this information with landowners, and encouraged individuals to ensure long term protection of these unique areas. Today, over 9,000 acres of land containing alvar habitat has been protected on the Carden Alvar through productive partnerships between the Nature Conservancy of Canada, Ontario Parks, Ontario Field Ornithologists, Toronto Ornithological Club, the Carden Field Naturalists and hundreds of supporters.
The Alvar holds intrigue for many. Bird watchers, photographers, hikers and more visit the Alvar regularly from across Ontario and beyond. The area has become a hotspot for those yearning to see Eastern Loggerhead Shrike, and other rare and endangered species. Many of these species can even be seen or heard along some key roadways. Many of Ontario's birds are becoming scarcer, and the species who depend on grasslands for their habitat are at special risk. Populations of Bobolinks, for example, have declined by 88% over the past 40 years.
Quick Facts
Potential acreage to be protected: 551 hectares (1,362 acres)
Habitat: alvar, wetland, forest, grassland
Alvar protected to date: 9,000 acres + with environmental non-profit organizations like Nature Conservancy of Canada
Total project cost: $1,000,000. We are partnering with The Nature Conservancy of Canada and are committed to helping protect this property by raising $220,000.
Watersheds: Head River, Talbot River. This area is a highly vulnerable aquifer and significant groundwater recharge area.
Conservation Values: carbon sink, species migration, linkages to other protected areas
Species at Risk: Eastern meadowlark, whip-poor-will, common nighthawk, golden-winged warbler, wood thrush, eastern wood-pewee, loggerhead shrike, Blanding's turtle, snapping turtle, black bear and moose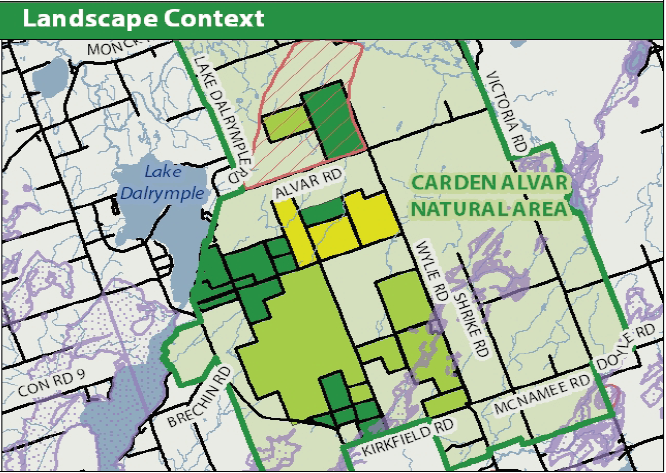 Highlighted areas in yellow represent the 1,362 acre property
THE OPPORTUNITY
The Nature Conservancy of Canada (NCC) has the opportunity to purchase a 551-hectare (1,362-acre) property at the heart of the Carden Alvar Natural Area. This large property links up with existing conservation lands, and once conserved, will be part of a protected corridor between Carden Alvar Provincial Park to the south, and NCC and partner-conserved lands extending north to Queen Elizabeth II Wildlands Provincial Park. The Couchiching Conservancy is partnering with The Nature Conservancy of Canada on this opportunity, and helping to protect this important place.
This property is truly the heart of the alvar. Protecting this piece of the puzzle, which was recently a proposed site for a shooting range, is essential to the long-term successful conservation of Carden Alvar. The property is a known breeding location for rare birds like eastern meadowlark, whip-poor-will, eastern wood-pewee, common nighthawk, golden-winged warbler and wood thrush. The endangered loggerhead shrike, Blanding's turtle and snapping turtle are also expected to make use of the high-quality grassland and wetland habitats on the property.
YOUR GIFT PROTECTS THE CEDARHURST ALVAR!
Along with the Nature Conservancy of Canada as the lead organization, we must raise $1,000,000 by spring 2021 to ensure this important, globally rare habitat remains protected and intact forever. We have made a commitment to help The Nature Conservancy of Canada to protect this place. Your donation to Couchiching Conservancy will help us make a significant contribution to this project. We are looking for committed supporters to pledge funds over three years to help purchase the property and to fund vital, on-going stewardship work needed to manage these lands for the long term.
A home for hundreds of species including Species at Risk such as Eastern Loggerhead Shrike.
Creating a connected corridor of protected wilderness.
Important Bird & Biodiversity Area because of its rich landscape and ecological value.
Protecting this property ensures it remains protected and intact forever.