With your help, we are working to create corridors of connected wilderness. For the species who call these areas home and for future generations to come.
The Whitney Property is now protected! This project was undertaken with the financial support by the Government of Canada through the Natural Heritage Conservation Program, part of Canada's Nature Fund. It was also supported by the Echo Foundation, Gosling Foundation, Consecon Foundation and many supporters in this community and beyond. A portion of this project was donated by Mr. and Mrs. Whitney to the The Couchiching Conservancy with support from the Government of Canada's Ecological Gifts Program.
July 2020 update:

The Taylor Nature Reserve is now protected! With an 80% donation by Dr. Ron Taylor and Charlene Taylor plus financial support from the Echo Foundation, McLean Foundation, Consecon Foundation, Ganawenim Meshkiki (Eastern Georgian Bay Initiative), Dr. Nancy Ironside plus donors.

Work continues to protect the wilderness of the Black River Wildlands. Other parcels are going through the acquisition process. You can help to protect these places and create new Nature Reserves by donating.
---
protected in corridor since launch of campaign
4 years
estimated timeline
1 of 5
key conservation regions of environmental interest
Wetlands are among the richest and most diverse habitats, especially when located along an active river and mixed with drier woodlands. That's what makes the Black River Wildlands so special. This mosaic of open marshes, majestic soft maple swamps, and coniferous wetlands is interspersed with clay and sand deposits, rock outcrops, and organic soils. This exceptional variety of landforms and vegetation provides habitat for a great diversity of wildlife as well. It is home to Species at Risk, creates natural flood control, connection to other protected areas and more. We first began talking publicly about the Black River Wildlands when we successfully campaigned to protect a 730-acre tract with more than 4 kilometres of river running through it. We named that property The Ron Reid Nature Reserve to honour the lifetime conservation achievements of The Couchiching Conservancy's first president and executive director. But the Black River Wildlands are so much more than a single property. It was first identified by the Conservancy as an area of interest in 1994 and The Heather and Alec Adams Nature Reserve and Alexander Hope Smith Nature Reserves 1 and 2 all fall into the zone. But with the creation of a new natural heritage analysis in 2018, the Black River Wildlands stood out. Teeming with wildlife and containing the right mix of crown land, park land and potential conservation land to facilitate a natural corridor, it has been identified as one of the prime areas of focus for The Couchiching Conservancy over the next 5-10 years. The preservation of this corridor would be one of the southernmost links to a broad swath of wild space that connects Algonquin Park in the north, the Kawartha Lakes and Carden to the south-east and Georgian Bay to the west with Queen Elizabeth II Wildlands Provincial Park as a central node.
---
---
This campaign will run over a number of years. In Stage One, there were two parcels to focus on, and there are other parcels identified for potential protection in the future. An estimated $1.2 million is needed over the course of the campaign, which could protect a land base worth an estimated $4.5 million. Your donation to the campaign helps to power this work. We are sharing specific details on each property, including the costs associated with protecting it, but there is a bigger picture. A larger connected corridor to work on. When you donate, please keep in mind a landscape of connected wilderness, laced with clean lakes, lush wetlands teeming with life. Together, we are a powerful community for good – for green – for blue – and all colours, all species in between. That is what we are working towards with your help.
---
What is special about this area?
The Ongwehonweh ("original people") of this region are of Haudenosaunee, Huron-Wendat and Anishinabewaki descent. This territory is covered by the Upper Canada Treaties and includes the Ontario lands extending from Barrie in the west, over the top of Lake Simcoe to the north-west corner of the City of Kawartha Lakes in the east. It includes Orillia, Oro-Medonte, Severn and Ramara, contained in north Simcoe County.
The below map shows protected areas (Couchiching Conservancy, Ontario Parks and more), First Nations, Crown Land, Agreement Forests, waterways and the Black River Wildlands region. The Pitts Property (Stage One) is identified. This helps to show how the corridors are coming together. You can click on the map to view a larger version.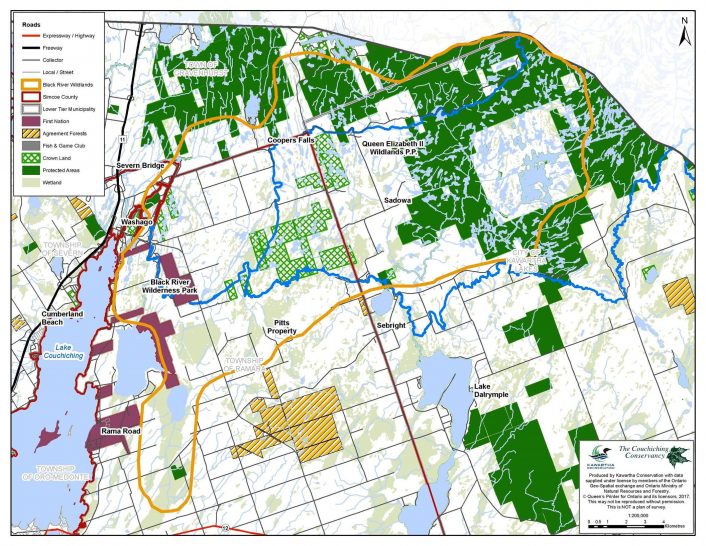 Some of that wildlife dependent on BRW is classed as Threatened because their numbers are rapidly shrinking – Canada Warblers that proclaim their nesting territories from thick cover; Wood Thrush whose ethereal song haunts the evening woods; Snapping Turtles that lay their eggs on sandy beaches. Other species find sanctuary in the sizable roadless heart of this area – Moose and Deer, Black Bears and River Otters. These wide-ranging species need large tracts of wildland for at least some parts of their life cycle, and BRW is one of the most southern areas to meet that need.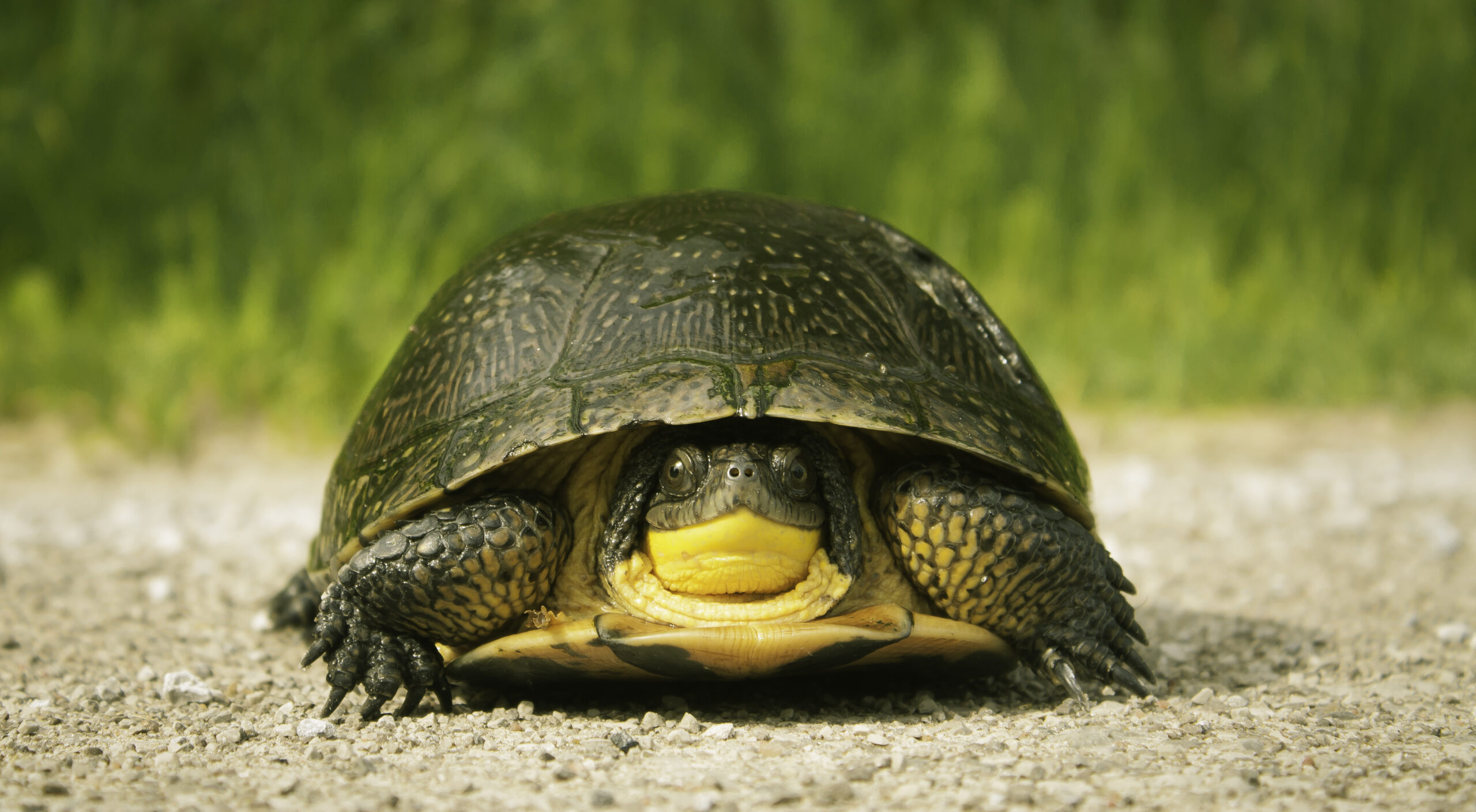 ---
Contribute to the Corridor Campaign
Work continues to protect as much wilderness within this Corridor as we can. Your donation helps to create new Nature Reserves.
Use the online donation form below to donate securely through Canada Helps
Send an e-transfer through your bank to info@couchconservancy.ca
Give us a call and we can take your information and credit card over the phone: 705-326-1620
Download a Donation Form and mail to our office (Box 704, Orillia, ON L3V 6K7)
Donations support priority opportunities within the Black River Wildlands and Carden Alvar (the Corridor Campaign).
If you have any questions, please reach out to Tanya Clark – 705-326-1620 or tanya@couchconservancy.ca.