Little did we know when my wife Charon and I relocated to the Couchiching area that there were so many natural areas to explore, so many recreational opportunities to enjoy and so many people like you with an interest and passion for conservation.  We love it here and have become big supporters of the Couchiching Conservancy and we continue to work to protect nature in this area and across Canada.
Before we moved here, I was chatting with a conservation contact of mine who told me to check out the Couchiching Conservancy as it was one of the best-run land trusts in Ontario (quite frankly I had never heard of the CC prior to this). He introduced me to the Conservancy, and Charon and I have now been actively involved for 4 years. I can now proudly and undeniably say that this is one of the best land trusts in Ontario, with an incredible record of achievement and protecting environmentally sensitive property (over 14,000 acres to date). Clearly these achievements would not be possible without an incredible team – which includes the staff, hundreds of volunteers and financial supporters like you.  So, thank you! Nature thanks you!
Unfortunately, we cannot rest on our laurels. On a global scale, we are all witnessing the impacts of climate change on our planet. Locally we are witnessing incredible intense development pressure. If you follow the local media, you will be aware of many instances where our wetlands are being destroyed, lakefront being urbanized, and our farmland and forests being developed.  Because of the need to address climate change and development pressure in our area, it is crucial to do MORE and do it SOONER. Although we cannot prevent development, we still have an opportunity over the next number of years to protect thousands of acres of environmentally sensitive lands in the Couchiching area.
Donate
That is what the $1.4 million Corridors Campaign is about! Protecting more properties sooner in two environmentally sensitive areas – the Black River area and the Carden Alvar.
Your Board of Directors and the Advisory Council are passionate about making significant progress towards our Corridors objectives. To demonstrate their commitment to this initiative they have collectively donated or pledged around $200,000 to the Campaign. On behalf of the Board and Advisory Council I would ask you to consider joining our challenge to protect nature, and making a donation or pledge to our Corridors Campaign. Again, nature thanks you!
Sincerely,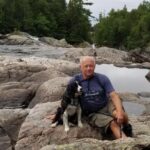 Doug Varty
Advisory Council Co-Chair,
Citizen Scientist, Property Monitor & Supporter
Featured photo: Blanding's Turtle, by T. Rowland