My son Hudson is obsessed with woodpeckers. He always hears them before I do. Anytime we get to see one, he won't stop talking about it for the rest of the day. He is almost three years old, and I can already tell he will love nature as much as I do.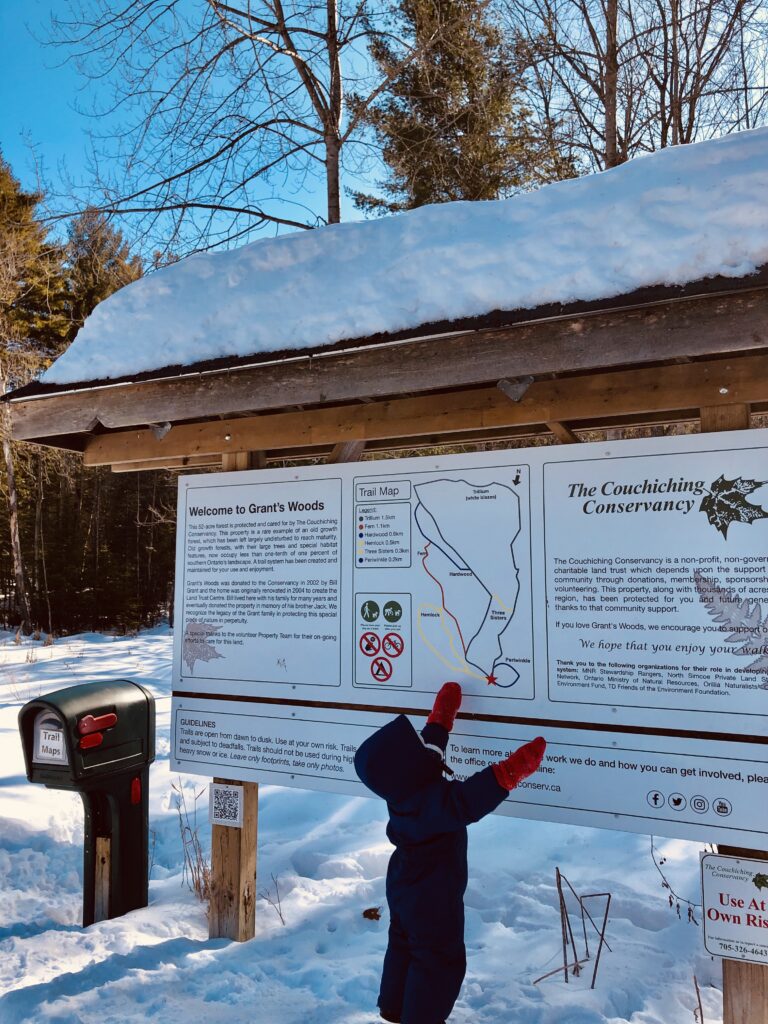 Grant's Woods has become especially important for us during the pandemic. We have increased our visits as a way to stay mentally and physically healthy (and sane!). It is a safe place for us to take our children. On a recent walk he heard and then spotted a woodpecker working on a rotting stump less then ten feet away from us. It was the first time he was quiet the whole walk. Hudson and my husband, and me with Russell (our nine month old strapped to my back) silently watched the woodpecker rap on the trunk for a long time. We are very grateful these areas are protected so that our family can have moments like this.
I grew up in Orillia and returned here with my family so that we could have more access to natural spaces. My husband Miles and I are active outdoor enthusiasts and work hard to give our children opportunities to fall in love with nature. Our youngest son Russell first visited Grant's Woods snuggled into my chest at just three weeks old in mid-February. We spend time here all year round.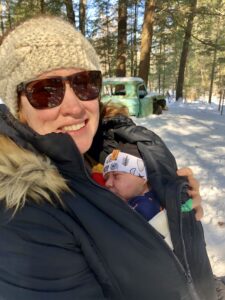 We hope our hours spent outside help to instil a sense of stewardship for the environment. Spending time in nature (and not just outside but in wild, mostly untouched natural spaces) even just once a week can develop a conservation ethic that lasts a lifetime. We are increasingly aware of just how critically important this will be for their future. When we tell Hudson we are going to Grant's Woods, he runs for the car yelling "We are going to the forest!" Will they be able to visit with their children or grandchildren, and be able to visit "the forest" and thriving ecosystems like this? We think about this more and more.
Fostering a strong connection to nature embodies everything we want to teach them – resiliency, caring for others and the environment, grit, problem-solving, a sense of wonder for the natural world – and it is fun! We have a blast every time we visit.
My hope is that during this challenging time as more people have turned to spending time in nature as a way to cope with all the change, and that they also reconnect with the environment and fall in love with protected places.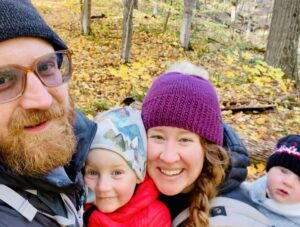 Together we are protecting the hope of the future, and creating nurturing relationships to each other, ourselves and wild places. Now is the time to act to protect places like Grant's Woods. The Couchiching Conservancy cares for thousands of acres of land in the area because people like you step up and take action. That's why we are supporters and they need your support! I hope you will consider doing your part. A $25 donation helps protect one acre of land for a year. That includes protecting habitat for woodpeckers (Hudson will be thrilled!) and powering actions like caring for the trails, managing invasive species and more. If you are able, please consider making a gift for nature.
From the Villneff family – Miles, Hudson, Hilary and Russell – thank you for protecting nature.
---
Make Your Gift:
Donate online using the form below, or use this donation form. When you donate, you have the option to doso in honour or in memory of a loved one. We can send a card on your behalf if you provide a note and contact information. We have some beautiful holiday cards to send!
Questions? Reach out to Tanya Clark tanya @ couchconservancy.ca or call the office and we are happy to help – 705-326-1620.
The Couchiching Conservancy is a non-profit, non-government organization. Our charitable registration number is 13972 5030 RR0001