Fall is such a beautiful time of the year, but it's only here for a short amount of time! Here are 5 ways you can make the most of out fall 
– 1 – 
Visit the Adams Nature Reserve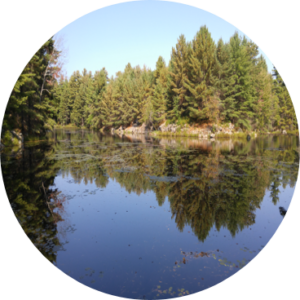 The Adams Nature Reserve is just one of the Nature Reserves we protect in the Black River Wildlands. If you are curious as to why this area is so special, this is a great property to visit. This beautiful 100 Acre Nature Reserve lies at the boarder to the Canadian Shield. It is home to several beautiful active beaver ponds, a stunning hemlock grove and a number of other species including Otter, Moose, and Black Bear. Please note that there is a short established trail on the Adams Nature Reserve, but there is no trail map.
---
– 2 – 
Learn Your Fungi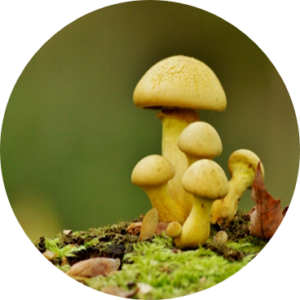 Photo: Gymnopilus lutes by Aiesha Aggarwal
Fall is one of the best times of the year to explore and learn about fungi. Whether you will be attending the Passport to Nature event, Hike to Find Fungi, or you are exploring your local Nature Reserves, watch your step as these brightly coloured networks of life are everywhere! To help identify the fungi you see on trails, check out Seek, a mobile app that helps you identify species by taking or submitting a picture.
Please note that The Couchiching Conservancy does not permit foraging or harvesting of plants on the Nature Reserves. This includes mushrooms, flowers, seedlings, bark, etc. Please respect the forests and take nothing but pictures. 
---
– 3 –
Fill & Feed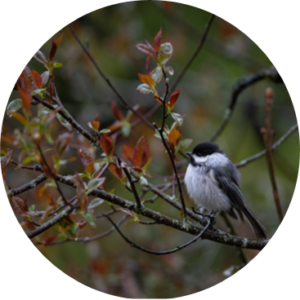 Photo: Black-capped Chickadee by Toby Rowland
As many bird species begin to hunker down for the cooler weather, they are looking for rich sources of nuts and seeds that will sustain them through the winter. Fall is the perfect time to get your feeders prepped and stocked to help our local bird species prepare for the colder months!
---
– 4 –
Stay Cozy This Fall
We all have that one favourite sweater that keeps us warm throughout the fall hiking season. But, in case you are on the hunt for just the right one, buying second hand is a great option. The fashion industry involves a lot of environmental degradation; from harvesting the textiles, dying the fabrics, to shipping the products. In the end, many of these pieces of clothing end up in the landfill after they have only been worn for a couple of years. Each year, North Americans throw over 12 million tonnes of textile waste into landfills (CBC, 2018). Buying second hand is not only a great way to divert clothing waste from landfills but can also decrease the amount of greenhouse gases you emit. According to WWF, if every Canadian turned their thermostat down 2 degrees and wore a sweater instead, we could safe 4 megatons of greenhouse gas emissions (WWF, 2017).
---
– 5 –
Attend a Passport to Nature Event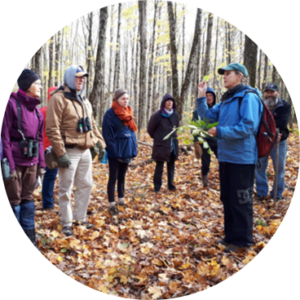 Photo: It's all About Trees by Sue Deadman
There are so many great local Nature Reserves to visit in the fall. The Passport to Nature gives you the opportunity to venture out to many beautiful places in the Couchiching Region and learn about the uniqueness of the area. There are still lots of events to attend, especially over the next couple of months. Join in on the New Canadians Walk this September or the Stewardship through Science Communication talk this November!
Click here for more information or to register for events.