On Sunday December 2nd from 1:30 to 4 pm, we're going to take over the basement of the St. Paul's Centre and hold an event for all of our monitoring teams (including General Property Monitoring, Water Monitoring, Whip-poor-will surveys, and Reptile & Amphibian monitors). *Please RSVP* Contact Dorthea by phone (705) 326-1620 or email: dort[email protected]

There will be sessions specific to each monitoring activity and a gathering in the main hall with speakers, info booths, and food.
Find out how much we were able to accomplish together this year, what we do with your data, and give us feedback on what you like and don't like about the program.
There will also be games, door prizes, and food. Try your luck at Pin the Tail on the Moose and other games of chance to increase your odds of winning a door prize.
---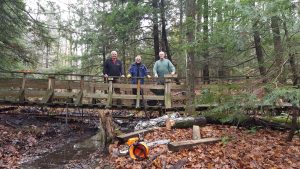 Have you ever noticed how remarkably well-constructed the bridges are at Grant's Woods? The founding members were thinking bold, successful, & long-term when they built these bridges. They dared to dream that someday the parking lot would fill up every day with people out enjoying the trails. Thanks to John Jenkins and Ken Thomson for their accomplished bridge work.
Sixteen years later they can still withstand six feet of hard-packed snow without any trouble, and aside from a bit of a lean here or a slight bow there, don't really ask anything of us.
Alan Smale, Karl Schulz, and Mike Read are part of our second generation of construction and maintenance volunteers. Today they are out correcting a bow at the Three Sisters Bridge. Please stop and say "thanks" if you happen to see them. -November 1, 2018
---
Planning is well under way for our 2019 citizen science program. There will be new properties and new activities, including a salamander monitoring program at the Adams Nature Reserve.
On Thursday October 25th, Meagan Coughlin and Joelle Burnie took advantage of good weather to install some salamander boards in the rich vernal pool area at Adams. This section of the property is not accessible to the public, due to the sensitivity of the vernal pools.
Volunteers with our citizen science program get "all access" to the property they monitor, and get to know the landscape intimately.  Stay tuned for 2019 volunteer opportunities on our Volunteer page, coming in December 2018. 
The Adams Nature Reserve is one of the Conservancy's newest properties, and we held the property dedication ceremony one year ago on October 30th.  There is currently a Property Monitoring and  Frog Call Monitoring Team, and we will be adding Reptile Monitoring and Salamander Monitoring in 2019.
---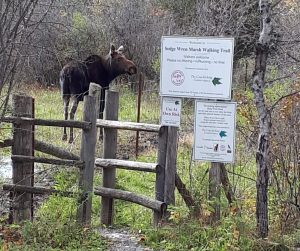 If you were traveling along Wylie Road on October 18th, you might have come across this sight. A Moose managed to jump over the Paige wire fence at Windmill Ranch, but didn't find it quite so easy to get back out and was wearing a path up and down the fence line.
Fences are essential for controlling cattle that range on the vast Carden Alvar,  but become a hazard and a barrier for some large mammals trying to move across the landscape.  On Windmill Ranch alone we have fenced nearly 1,600 acres.  Most of the time they manage to find their way out, and aside from some stress for the animal no harm is done. 
Sometimes entanglements result in serious injury or death.  Interest in Wildlife friendly fences is growing and you can read more about the topic here.