Volunteer
People who share their time and skills to benefit nature in our region are at the heart of what we do. It is thanks to hundreds of volunteers that we are able to accomplish so much, and make a difference for the species who call the area home.
Please review each job description carefully, determine which are the right fit for you, and complete an application so we can talk further.
---
The 2021 recruitment season is just around the corner. Stay tuned. If you applied in 2020 and are waiting to hear from us, the wait is almost over.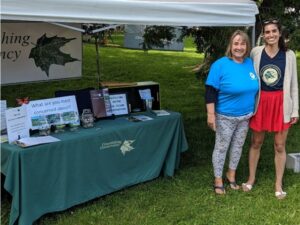 Currently recruiting for 2021
As an Ambassador, you have the opportunity to share your love and passion for land conservation with your community. You become part of a special team of trained volunteers who promote the Conservancy and the work we do by attending public events, helping to host Passport to Nature webinars, calling supporters, engaging people on the trail, and more. If you are looking to connect with your community, meet other like minded nature lovers, and be part of the Conservancy's mission to protect your local lands, we invite you to join the 2021 Ambassador team!
---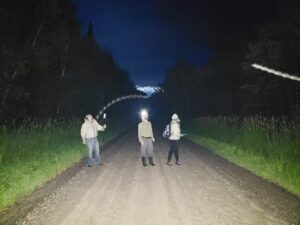 *All openings for 2021 have now been filled*  Thank-you!      

There are eight species of bats in Ontario, and four of them are listed as a Species at Risk.  Bats are active at night, emitting echolocation which cannot be heard by humans.
Bat Monitoring teams of 3  are assigned a property and cover a designated route 1/2 hour after sunset.  Using two bat recording technologies, you will record the echolocation calls of bats which can then be analyzed to determine species.
---
Frog Call Monitors (Evening)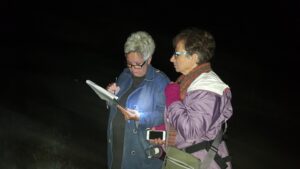 Available opportunities will be posted in January 2021


There are one toad and nine frog species in our region, and volunteers are trained to identify their calls both individually and in a chorus.
Skills and Equipment Needed: Good hearing is required. Listening devices with headphones are used to verify calls.
---
Frog Call Monitors (Daytime)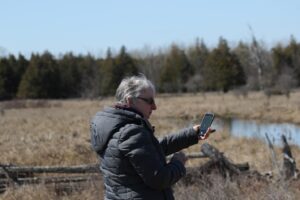 Available opportunities will be posted in January 2021


This program targets Western Chorus Frogs, along with Wood and Northern Leopard Frogs, whose mating calls can be heard in the daytime March to May.
Volunteers take the frog call monitoring training progam.
Skills and Equipment Needed: Good hearing is required. Listening devices with headphones are used to verify calls.
---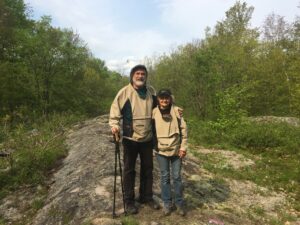 We have openings for approximately 4 new volunteers left in 2020 on properties located in Orillia, Carden, Ramara, Severn, & Dalton Township
Every Conservancy Nature Reserve needs a team of Land Stewards, to keep staff informed about the condition of the property and help to keep it maintained.
Land Stewards work in teams of two, and are assigned a permanent property to monitor.


---
Monarch Butterfly Monitors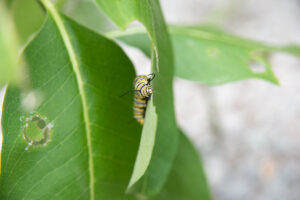 * New * Available opportunities for 2021 will be posted in January


This program supports the national milkweed watch initiative and mission monarch . Since the Milkweed plant is the Monarch's sole source of food, both of these programs target milkweed in order to track the health of Monarch Butterfly populations.
Volunteers will count both milkweed plants and monarch caterpillars found on the plants, and submit data to us for inclusion in the milkweed watch and mission monarch studies.
---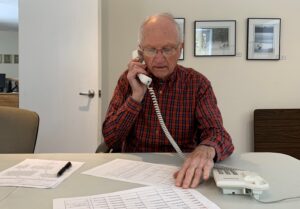 Once the Grant's Woods office reopens, we will be looking for an office volunteer to assist with various tasks such as preparation for mail-outs and events, data entry, filing, and uploading photos.
Computer skills are necessary.
---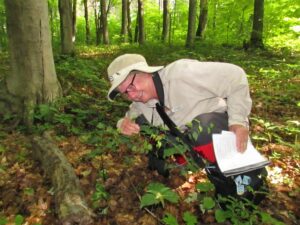 This program is now full for 2021.  Thank you!   

This program takes advantage of smartphone apps such as SEEK which can readily identify plants in the field.  We also teach you how to use field guides for identification.
Volunteers will be assigned a property to monitor, and will capture photos for a maximum of 12  plants per visit that are in bloom, identifying them using smartphone apps and Field Guides, and ranking their abundance.
---
Property Maintenance Team (Special Projects)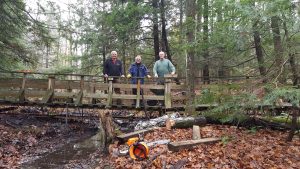 Recruiting for 2021
This is a roving team with construction skills and chainsaw know-how. They take on larger maintenance projects such as foot bridge construction and maintenance, erecting new property signs, and keeping our office in good repair.
This program is now full for 2021. Thank you!  

Volunteers stealthily follow a designated route, looking for basking & nesting turtles, snakes, and on some properties the five-lined skink.  The five-lined skink is Ontario's only lizard.    No experience is necessary, we provide training.
Equipment Needed: Binoculars and a camera with a zoom lens (we have easy-to-use cameras we can loan you - your smartphone camera is not up to this job).  A GPS unit or smartphone mapping app such as Avenza.  Use your own equipment, or borrow ours.
---
Salamander & Vernal Pool Monitors
---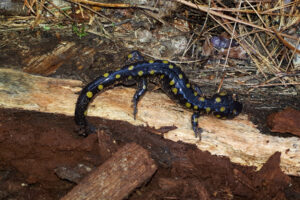 This program is now full for 2021. Thank you!  


Volunteers monitor vernal pools in the early spring for amphibian egg masses, and then switch to monitoring under boards for the summer and fall.
Equipment Needed: A GPS unit or the Avenza map app is needed to find salamander boards that have been placed on the property.  We can supply you with the GPS Unit.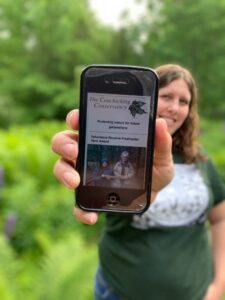 Two volunteers confirmed. More opportunities possible in 2020.
We share updates and news on Facebook, Twitter and Instagram on a regular basis. We could use some help to see what is working and where we could improve, as well some help with creating content and graphics. This job needs to be done in the office, and we are hoping to find 1-2 volunteers so we have one person a week.
Read the Job Description here. Please reach out to Tanya Clark if you can help.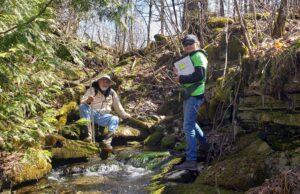 This is our benchmark Citizen Science program, which began in 2015.

Water Teams test for up to 9 different water quality parameters on-site including Temperature, Depth, pH, Dissolved Oxygen, Phosphates, Turbidity, Alkalinity, Nitrate-Nitrogen, and sometimes Chlorides.
No experience necessary - we will provide you with training.
---
---
Whip poor will and Nighthawk Surveys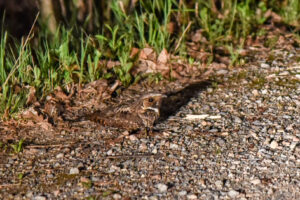 This program is now full for 2021.  Thank you!   

In June, by the light of the full moon, volunteers take to the backroads of Oro-Medonte, Severn, Carden, and Ramara Township.  Surveys are done by car, with a team mate, just after dark.  Surveys run about two hours per trip.  The amount you take on is up to you:  take one trip or more.
No experience is necessary - we will train you.
---
---
Special Skills: If you have any of the following skills to contribute, we are interested!
Fundraiser/Event Organizing
Handyperson
Arcview/GIS Mapping
Environmental Educator
Writing/Editing
Graphic Design
Government Legislation & Policy Monitor
Conservation Land Tax Specialist
Media and Communications
Email: volunteer@couchconservancy.ca
Mail: Box 704, Orillia, ON L3V 6H2
If you have any questions, please call 705-326-1620.